Abseil with Angela

Sat, Nov 16 2019, All day event

Thomond Park
CHARITY ABSEIL WITH ANGELA COLLINS AT THOMOND PARK
HAVE THE EXPERIENCE OF A LIFETIME WHILE
HELPING TWO GREAT MID-WEST CHARITIES
Thomond Park, Saturday 16th November 2019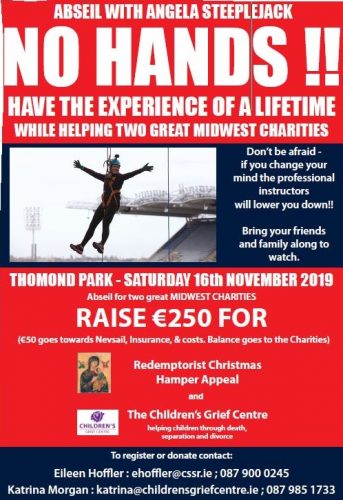 In aid of 2 midwest charities, Redemptorist Christmas Hamper Appeal and Children's Grief Centre.
If you would like to take part on the day all you need to do is raise €250, €50 will go towards Nevsail, insurance and costs, balance will go to the charities.
For sponsorship cards please contact the Centre – Katrina@childrensgriefcentre.ie or 087 4578030 / 0879851733
The Children's Grief Centre and The Redemptorists Christmas Hamper Appeal
Don't be afraid – if you change your mind the professional instructors will lower you down!!
Find out more about Angela Collins at https://www.rte.ie/archives/2015/1019/735801-steeplejack-angela-collins/
Bring your friends and family along to watch.
The abseils run throughout the day and you will be allocated a time slot.
The minimum age to do the abseil is 12 years old and anyone under 18 needs to be fully signed in by an adult/parent/guardian.
If anyone has any health conditions, you would need to check with your GP to see if it is okay for you to do this abseil.
Regarding clothes to wear on the day, please wear normal sports clothes and as it is Mid-November, please bring a warm jacket/rain jacket and a hat etc.
Our big abseil (42 metres) takes place from above the West Stand, above the media box where some of the most exciting commentary in rugby has been delivered.
If you have never abseiled before, then you'll certainly get to discover what you can do when you put your mind to it.
You will get to experience the thrill and excitement of this unique and exhilarating abseil from Thomond Park Stadium, where the adrenaline rush will make you come back for more.
The abseil should take each participant 20-25 minutes, including getting geared up, instruction and the abseil itself.
For sponsorship cards please contact the Centre – Katrina@childrensgriefcentre.ie or 087 4578030 / 0879851733
Registration fee: €50
Fundraising Target: €200
Fitness Level: Light