The Children's Grief Centre exists to give hope to the hundreds of children and young people who have experienced loss through death, separation and divorce. Our support workers help them make sense of what has happened to them by listening to them and providing a safe place for them to explore their feelings and face the future with renewed confidence and hope. The early intervention work that we do helps children better cope with grief and protect their mental health. Grief can destroy a child's future. We exist to try to make sure that it doesn't.
This is the only Centre of its kind in Ireland.  Since we were founded in 2009, we've supported more than 1,500 children, and the demand for our services continues to grow, to the point where we now have a waiting list of over 300. To meet this demand, we urgently need to relocate to new premises to help a greater number of children and young people and train others in this important work.
We have carefully researched what 'state of the art' means for this type of facility, visiting leading examples in the USA and elsewhere.  We have developed a clear vision and brief for the ideal project to provide a long-term, fit-for-purpose bespoke home for the Grief Centre's work.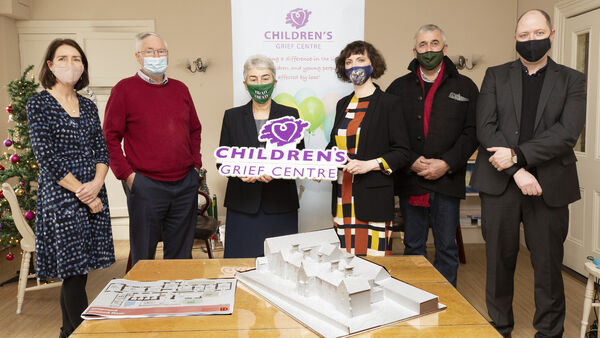 In February 2020, we were informed that the Ladies Residence on the John Henry Newman campus at Mary Immaculate College has been gifted to the Children's Grief Centre and were delighted and massively grateful to receive the donation of this superb building which is the right size and can be adapted to meet this exacting brief.
The building is a substantial structure built from local stone, very much in the style of the surrounding buildings of the neighbouring Mary I campus. It was built as a home for widowed women in the 1800s and had some beautiful architectural features, very much of its era.

The building has great bones, but it needs re-roofing, new windows, new heating, electrics, toilets and stairs as part of adaptations to bring it up to current standards; and be tailored to provide the range of therapy rooms and specialised settings needed to support our work.
We've assembled a top-class team of architects and designers so that we can get this critical effort right; and will be submitting our planning application shortly and hope to get on-site by the autumn of this year.
We have a very child-centric design and will have a range of support rooms tailored to specific age groups' needs. It will also have a small library extension into the tranquil memory garden at the rear of the building that waiting parents can use; and will have all of the support, training and administrative spaces needed to support the Centres ongoing work.
We were lucky to be gifted this building, and we're very, very grateful for that. But to bring it up to the standard that the children need, it requires a substantial investment of 3.5 million euro, and we're looking for donors to come and help us fund this unique and important project. It's a wonderful thing to be involved in, and we urgently need your support at this time.