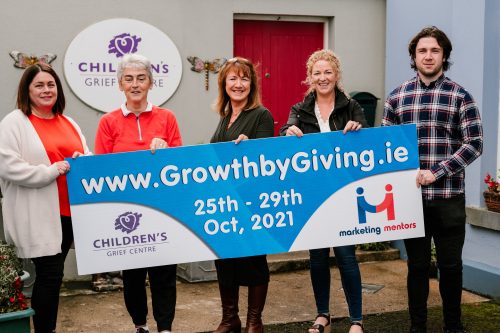 Marketing Mentors have teamed up with the Children's Grief Centre.
Growth by Giving Marketing Support Campaign, took place between October 25 – 29. It helped  support business and our Dream Build project for a new bigger centre. We were so delighted to be part of this.
Roisin Bennett, director Marketing Mentors, said the concept is that in return for a donation, businesses will receive a 1 to 1 consultation with an expert growth mentor to help with any aspect of their business.
Some of Marketing Mentors most popular sessions are launching a new product or service; growing market share and marketing strategy.
This is a joint initiative between the Children's Grief Centre and Marketing Mentors supporting businesses in their growth cycle and supporting the Grief Centre's Dream Build funding campaign.
To find out more visit: https://growthbygiving.ie
Read Limerick Leader article here: https://www.limerickleader.ie/news/home/678200/growth-by-giving-initiative-to-help-fund-childrens-grief-centre-project.html