The Mission of the Children's Grief Centre is to raise awareness and understanding in relation to the loss children feel following bereavement or separation. The Children's Grief Centre provides grieving children and teenagers a place where they are given the opportunity to look at feelings associated with loss and learn that they are not alone. We aim to help children to overcome the obstacles that keep them from living full lives. In addition, the Children's Grief Centre strives to educate the community that grieving is an important part of life and is essential to an individual's on-going growth and development.
Pursuing a dream is hard work. From humble beginnings the Children's Grief Centre has grownn steadily over the past ten years.  This was achieved by the diligence, resolve, enthusiasm, dedication and professionalism of all those who have worked and continue to work in the centre.  Currently the demand for The Childrens Grief Centre is so high that there are over 300 kids on the waiting list. The Children's Grief Centre is now at the stage of looking to implement a more permanent and sustainable premises for the future. As well as improving the physical size of the building, new plans will create a more stimulating environment for children and young people.  The new centre will accommodate an art room, a theatre room, a volcano room and a splatter paint room as well as an outdoor play area.
Our dream build is based on a Bereavement Support Service in Oregon, USA called the Dougy Centre.  Helen Culhane (our Director) visited the centre in the summer of 2019 and had a chance to meet with its Executive Director, Brennan Wood.  This was a fortuitous and informative meeting and a great opportunity to envisage how our Centre could evolve and develop over the coming years.  The Children's Grief Centre have now commissioned a set of plans for a purpose built Children's Grief Centre with estimated costs in the region of four million euro.  This year marks the start of phase one of a planned new campaign to raise funds for our new premises.
Go Fund Me @ https://www.gofundme.com/the-children039s-grief-centre-new-building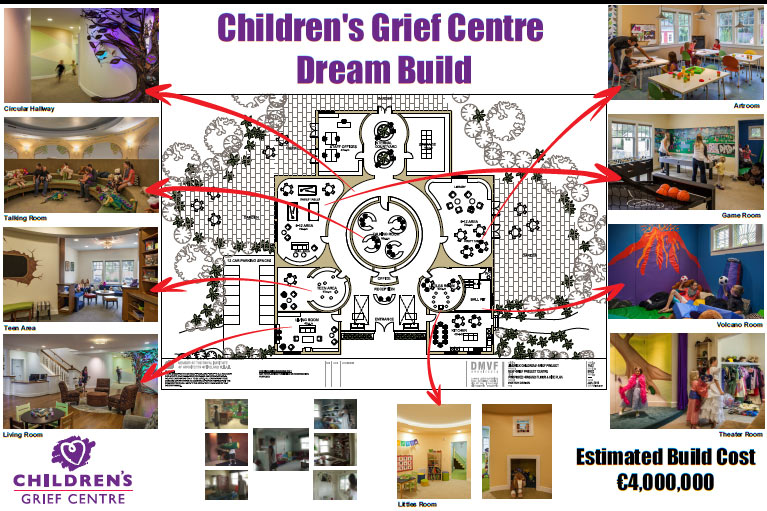 Phase One – New Build
Recent Fundraising Campaigns include the Run for Liam event in 2019. Thanks to the incredible Run for Liam team who raised a phenomenal €116,00.00 we are now closer to our goal of 1 million euros please share and donate to our New Building Fund Campaign.
Ciara McCullough of Beyond Defeat set off on the 7th January to run 1000 km from Derry to Kinsale to raise funds for our work here at the Children's Grief Centre. We are so thankful to Ciara for all she is doing to support grieving children.  Over 350KM ran, 6 counties covered & €25,000 raised and we are only just getting started!

Please donate at beyonddefeat.ie/donate & share this with everyone you know and help her reach her €150K target
You can register to run virtually with Ciara www.runwithciara.com / Text RUN to 50300 to donate €4 or donate via Ciara's Facebook Fundraiser @ https://beyonddefeat.ie/donate/ . Thanks to all have supported Ciara on her journey so far.
We thank you for your interest in and support of the Centre.
The Children's Grief Centre Team