Social Innovation Fund Ireland
It was a day of celebration for the Children's Grief Centre on the 20th November when it was announced that we were one of ten national recipients of €25,000 in the Animate Fund.  The Animate Fund is a commitment between Social Innovation Fund Ireland, Medtronic, a global leader in medical technology, services and solutions and the Department of Rural and Community Development from the Dormant Accounts Fund.  Social Innovation Fund Ireland (SIFI) was created in 2013 by the Irish Government to stimulate philanthropy and to support social innovation. Their mission is to provide growth capital and supports to the best social innovations in Ireland, enabling them to scale and maximize their impact. The vision of the Social Innovation Fund is to create the world's best ecosystem for supporting social innovation. Their purpose is to find and back innovative solutions to critical social issues in Ireland. They work to build the Ireland we all want to live and work in. They support innovations that enable healthy, resilient communities, and tackle issues like educational disadvantage and exclusion.   The Ten awardees of the 2017 Animate Fund : were: Cork ARC Cancer Support House's Secondary Cancer Support Programme, Dublin Rape Crisis Centre 'BodyRight', Irish Society for Colitis and Crohn's Disease (ISCC), Living Well with IBD, KICK (Kickboxing to Inspire & Challenge Kids) Tallaght, Pavee Point Traveller Maternal Health Initiative, Dublin Simon Community 'Suicide Specific Treatment Track', COPE Galway 'Eat Well, Live Well, Age Well,  Tipperary Rural Traveller's Project, Not So Different Programme, Coolock.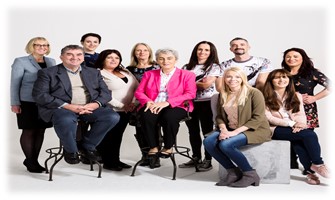 Sr. Therese Barry, Helen Culhane and Philip Mortell, Chairman of the Board of Management travelled to Galway on the 20th, November to receive the award on behalf of the Children's Grief Centre.   The Animate Awards were presented at the Medtronic Customer Innovation Centre in Galway by Minister of State for Community Development, Natural Resources and Digital Development, Seán Kyne T.D and Dr. Jacob Gayle, Vice President of Philanthropy at Medtronic, and President of the Medtronic Foundation.
Dr.Jacob Gayle, Helen Culhane, Seán Kyne T.D & Deirdre Mortell, CEO, Social Innovation, Ireland
In addition to a cash grant, all awardees will receive a place on Social Innovation Fund Ireland's Accelerator programme that is designed to help them to grow and develop their ideas into powerful community solutions through ongoing support and advice. Our work could not continue with the support of the Trustees, Board of Management, staff and dedicated volunteers
          Sr. Helen Culhane(Director) Dr. Jacob Gayle, Sr. Therese Barry (BOM) & Philip Mortell